The Americans with Disabilities Act,
twenty years on
...
"The 9th U.S. Circuit Court of Appeals ruled this week that customers in wheelchairs are being denied the full "Chipotle experience" of watching their food being prepared because Chipotle's 45-inch counters are too high."
Even the SF Chronicle thinks this was a bullshit decision.
They have more details
. The plaintiff, Maurizio Antoninetti, has sued twenty plus business in the last 19 years.
Walter Olson
has more info about the ADA after 20 years, including this passage about the conflation between legislation and society:
One reason for the law's immunity from criticism is that it is defended as a matter of identity politics: if you're against it, then you must be against the people it protects. So it is treated as rude, not merely provocative, to bring up the failure of the original ADA premise that the new law would "pay for itself" by increasing the labor force participation of the disabled (the rate declined instead).
PS
I can't imagine there are that many Maurizio Antoninettis in San Diego, so I'm going to assume the plaintiff is the same Maurizio Antoninetti employed as a
professor of city planning by SDSU
. I'm counting this as one more reason I don't respect the entire discipline of city planning.
~ ~ ~ ~ ~
Via CoyoteBlog
, a
1:4 scale radio controlled Tiger II
. That's 550lbs of awesome.
I wish they had an original Tiger. No reason in particular, I'm just a little partial to them since I had a model of one in my toy soldier collection as a kid. (Yes, I have a favorite Panzer. That's the kind of kid I was.)
~ ~ ~ ~ ~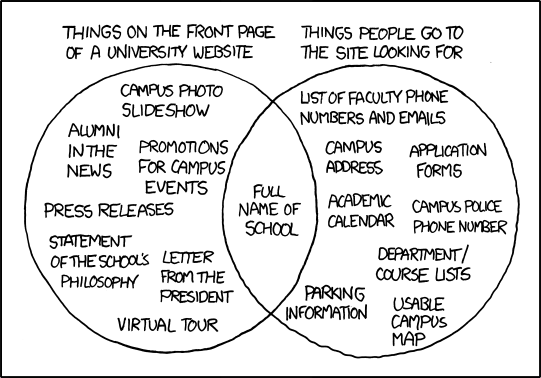 Today's xkcd.
You hear that UMD? I want a
usable
campus map.
The title text to the comic:
People go to the website because they can't wait for the next alumni magazine, right? What do you mean, you want a campus map? One of our students made one as a CS class project back in '01! You can click to zoom and everything!
This happens all the time. I've seen a dozen or so completed students projects from my very small undergrad CS department that were better than what ND was providing online. Often ND was providing nothing.
~ ~ ~ ~ ~
Patrick of Popehat points out that not only did an unspecified number of FBI agents
cheat on the law exam to be promoted to "special agent,"
the FBI Inspector General claims that they only shared answers during the exam because they were confused and didn't know not to. The IG seems to think it's a mitigating factor. I think it means that these agents are not only corrupt, they're too stupid to know how a test works. So glad these guys are out there keeping society safe.
~ ~ ~ ~ ~
These Icelanders know how to celebrate a goal.
Via
Matt Johnson
~ ~ ~ ~ ~

The Daily What | Proclamation of the Day

Maryland declares the day of Civ5's North American release — September 21st — "Sid Meier's Civilization V Day."

Move over Christmas: Papa's got a new favorite holiday.
I have never been so proud to be from in MD.
(This isn't totally random. Sid has lived around Baltimore for decades. Cockeysville, I believe.)
~ ~ ~ ~ ~
Yahoo News | John Carey | Mighty oil-eating microbes help clean up the Gulf

Where is all the oil? Nearly two weeks after BP finally capped the biggest oil spill in U.S. history, the oil slicks that once spread across thousands of miles of the Gulf of Mexico have largely disappeared. Nor has much oil washed up on the sandy beaches and marshes along the Louisiana coast. And the small cleanup army in the Gulf has only managed to skim up a tiny fraction of the millions of gallons of oil spilled in the 100 days since the Deepwater Horizon rig went up in flames.
This isn't to say that the "missing" oil isn't still causing damage, particularly on the sea floor, but it rather gives the lie to the line I kept hearing that the Gulf would "never" recover. (E.g.
one
,
two
,
three
:
ThinkProgress' Brad Johnson was blogging from the Gulf Coast and spoke with Gulf Coast marine scientists who all agreed that the "unfolding oil disaster could mean devastation beyond human comprehension" and "all bets are off."
This was a pretty bad spill, but it was no Out of Context Problem.)
I stopped believing the "this is such a bad disaster that Nature will NEVER RECOVER!" hype after Mt Saint Helen's.
By the way, can someone tell me why anyone cares when a random sample of Americans think the Gulf will recover?
Gallup | Lidia Saad | Many Americans Say Gulf Beaches, Wildlife Will Never Recover
Nearly all agree that full recovery will take 10 years or more

From what they have seen of the Gulf of Mexico oil spill rolling onto America's shores, nearly half of Americans (49%) believe that at least some of the affected beaches will never recover. Even more, 59%, believe normal levels for some animal species will never be restored.
This isn't a matter of opinion or taste or animal spirits or what have you. This is a scientific question. I still don't have a lot of faith in experts to answer it, but I have no faith at all in a random selection of Americans with no facts and no theory and no background to figure it out.
And don't give me that wisdom of crowds line. The opinions being aggregated need to be at least minimally accurate for that to work. (Better than chance in a categorical question. Not sure what the rule is for ratio variables.)
~ ~ ~ ~ ~
TJIC offers a
twist on the dirigisme-as-economic-creationism observation
:
I am amused by the fact that the same group of people say:


"the vast web of trillions of interactions between different plant and animal species is so thick and complicated that it's folly and arrogance for us to step in and start messing with things that we don't understand"

and also say


"the vast web of trillions of interactions between economic actors is so simple that we philosopher kings with our law degrees and 129 IQs should absolutely step in and start messing with things that we don't understand".
That's in response to
this
:
The nation's dominant ratings firms have in recent days refused to allow their ratings to be used in bond registration statements. The firms, including Moody's Investors Service, Standard & Poor's and Fitch Ratings, fear they will be exposed to new liability created by the Dodd-Frank law.

The law says that the ratings firms can be held legally liable for the quality of their ratings. In response, the firms yanked their consent to use the ratings, hoping for a reprieve from the Securities and Exchange Commission or Congress. The trouble is that asset-backed bonds are required by law to include ratings in official documents.

The result has been a shutdown of the market for asset-backed securities, a $1.4 trillion market that only recently clawed its way back to health after being nearly shuttered by the financial crisis.
Can something that's so eminently foreseeable really be called an "unintended consequence"?